Proud to announce my short feature/music video Margaritas@Midnight is in the official line up at the Paris Short Film Festival 2020:
The Making of M@M

:

So there I was far from the musical spotlight due to family craziness and out of the blue, Richard Manwaring, renowned British producer, drummer, and sound mixer, sent me a demo he was arranging with his band Rough Score. Richard and I met in London ages ago when I was recording my first single for Virgin and we've been friends ever since.
(Photo Celia Manwaring)
The track's bluesy lounge groove was sexy, but I asked if I could spin the lyrics away from lost-love territory already covered in Jimmy Buffet's megahit Margaritaville, towards a female take on tropical fantasies. I needed something light and playful to counterbalance the challenges in my life and darkness in the world. The band said yes and singing it was a blast. From day one, I "saw" the story, but had no budget to film it.
My artistic process for the video involved strumming on my guitar, imbibing margaritas, island reveries…
…plus tons of comedy and art. (Tough job, but…)
As I was planning a minimalist version on iPad and iMovie, tech genius DP, editor, mixer @krysed came on board:
…joining  improv talent, brainstormer deluxe, DIY acrobat, and the original Margarita God himself, Lewis Primo:
Not to mention couple of the century, Shirley and Brandon:
I could now throw myself into storyboarding and mapping, creating costumes and decors from scratch. 
The Mood Board:
My vintage doll and toy collection, first featured in a brilliant fotonovella shot with my son for his middle school art class:
Iconic Kramp Kitchen sequence from 70's cult film The Groove Tube (ancestor of SNL):
Christian Boltanski art installation: Shadows from the Lessons of Darkness: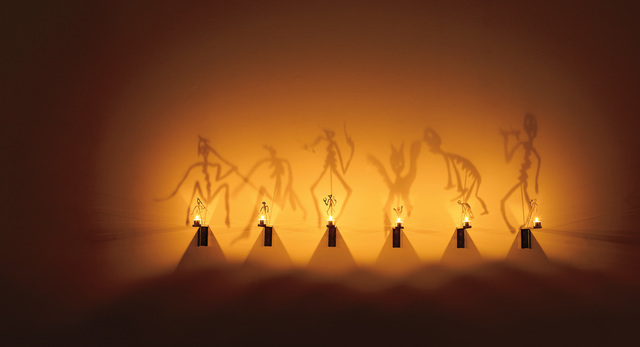 Maurice Sendak's
Where the Wild Things Are
:
Extra visuals:
and island reveries….
Essential background and props:
Florida paintings
 by artist
Lynn Margileth
(full disclosure, also my sister, whose studio assistant I was for this series many moons ago) :
Fabrics from Marché St Pierre + patterns, needles, thread, charms, sequins, glue
:
My collection of international female power objects
:
Candles and bakelite jukebox piggy bank
:
(Krysed bought a special lens for this, same one as Stanley Kubrick used for Barry Lyndon)
Location shooting took place in:
My kitchen
, with puppet theater and blankets
:
Our guest
room
 with linen sheets and keyboard:
Lights, camera, action:
With my story board (here p 4) and lines of vision map:
Big thanks to Rough Score for the song: Drums Allmighty Richard Manwaring, Guitar Messiah Paulie Raymond and Bass Creator Richard Hewlett:
(Photo Celia Manwaring)
For gorgeous Florida paintings to Bodhisattva Lynn Margileth, for tech magic to Shooting Ninja @krysed, and to Margarita God Lewis Primo for allowing me to immortalize his original margarita recipe, developed over years of travel, investment, research and experimentation…
Festival info:
https://filmfreeway.com/paris-short-film-festival
Festival website and tickets:
Enjoy as much as we did!
Your (Vocal Siren) Aliss xxxxxxx